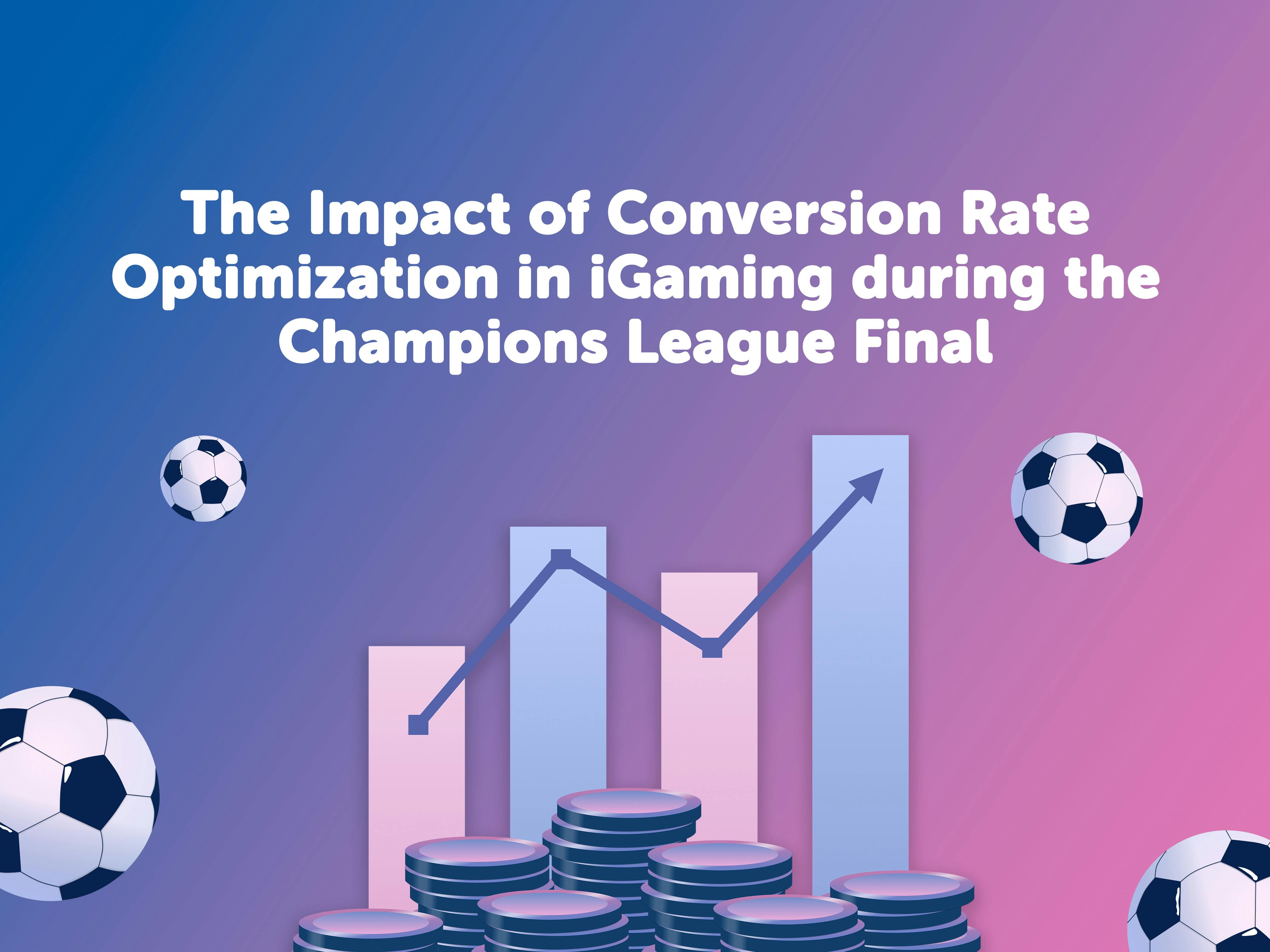 Conversion Rate Optimisation (CRO) plays a crucial role in the success of any online business, and the iGaming industry is no exception. As the Champions League Final approaches, iGaming operators face a unique opportunity to leverage CRO strategies to maximise their conversions and capitalise on the heightened interest and engagement during this prestigious football event. In this blog post, we will explore the potential impact of CRO in iGaming during the Champions League Final, examining how operators can optimise their platforms to attract and convert more users, enhance user experience, and ultimately drive revenue.
Tailoring Landing Pages and Offers
One of the fundamental aspects of CRO is crafting tailored landing pages and offers to match user expectations. During the Champions League Final, operators can create dedicated landing pages that highlight relevant promotions, bonuses, and betting options related to the event. By aligning the content and design of these landing pages with the excitement surrounding the final, operators can effectively capture the attention of football fans and increase conversion rates.
Moreover, utilising personalised offers specifically tied to the Champions League Final can significantly impact user engagement and conversions. Operators can provide exclusive bonuses or enhanced odds on specific match outcomes or player performances, enticing users to choose their platform over competitors. By leveraging the sense of urgency and anticipation associated with the final, operators can create a compelling value proposition that drives conversions.
Optimising User Experience
User experience is a critical factor in CRO, as it directly affects user engagement and conversions. During the Champions League Final, operators should focus on optimising the user experience on their platforms to ensure seamless navigation, fast loading times, and intuitive design. A responsive and user-friendly interface, coupled with a well-designed information architecture, can enhance the overall user experience and lead to higher conversion rates.
Additionally, operators can employ persuasive design techniques such as iConvert to encourage users to take desired actions. This includes strategically placing call-to-action buttons, utilising social proof through testimonials or user reviews, and employing scarcity tactics in Behavioural Overlays to create a sense of urgency. By leveraging these techniques, operators can guide users through the conversion funnel more effectively, increasing the chances of conversion during the Champions League Final.
Implementing A/B Testing and Data Analysis
A key aspect of CRO is conducting A/B testing and analysing data to identify effective strategies. During the Champions League Final, operators can take advantage of this approach to refine their offerings and optimise conversions. By running A/B tests on different landing page designs, promotional offers, or even the placement of key elements, operators can gather valuable data on user preferences and behaviour, enabling them to make informed decisions.
Furthermore, operators can analyse user data to gain insights into user demographics, preferences, and betting patterns during the final. This information can help operators tailor their marketing efforts and promotions more effectively, ensuring a personalised and targeted approach. By understanding their users' motivations and preferences, operators can create highly relevant and engaging campaigns that yield higher conversion rates.
Create a retention strategy
A very underutilised strategy in iGaming by the smaller operators as it comes with the assumption of high costs and long implementation times. Ladbrokes, Bet365 and Skybet are all common adopters of daily retention strategies to great effect, which sees returning players every day.
Operators could employ gamification strategies with retention strategies to create an environment where players return every day to win small prizes ranging from £0.10 bets to £100.00 bets. What you offer is at your discretion but the rewards it brings operators in lifetime player value LTV is a potential you shouldn't be skipping out on.
You can use an iGaming CRO specialised company like iConvert to help you in your retention strategies and drive deposit rates up by 15%+.
Conversion Rate Optimisation (CRO) plays a vital role in maximising conversions and driving revenue in the iGaming industry, especially during high-profile events like the Champions League Final. By tailoring landing pages and offers, optimising user experience, and utilising A/B testing and data analysis, operators can enhance their chances of attracting and converting more users during this exciting football event.
The Champions League Final presents a unique opportunity for iGaming operators to leverage CRO strategies, aligning their platforms and promotions with the heightened interest and engagement surrounding the event. By capitalising on the passion and anticipation of football fans, operators can optimise their conversion rates, increase user engagement, and ultimately drive revenue growth.